In winter, the fires are relatively high in Bangladesh. So at this time, the fire safety plan in Bangladesh should raise awareness. The flames that occur in homes, shops, and factories are mostly due to lack of awareness.
When if your house fire is set on fire, can your employee or your family be able to come out safely? You must know what to do with a fire alarm and where you need to go.
No matter what kind of fire preventive system you put in your home, the fire can burn at any time. Therefore, you need to have a plan that will help you in times of crisis. Find out where your departures are with your family. If it is difficult to cope with emergencies, you must talk to your children or employee about what they should do if they are trapped in their room during the fire. Create a plan on how to protect all family members and all employees of your industry.
By following the instructions below, you can fire safety plan your home or your industry from the fire. Moreover our company, you can solve your problem by contacting.
Draw a floor plan of your home or your industry:
Draw a plan for each level of your home or industry, so that you can move from each room to two rooms.
Include all possible emergency departures for your home or industry
Draw all the doors, windows and stairs to your home or industry. It will show you all the possible escape paths at a glance, This will allow you to move to a safer place. Include your home or industry as a balcony and other features that will help you get to a safe place.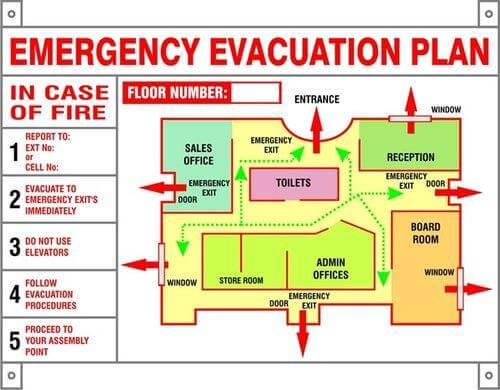 Show two ways from each room of your home or industry
The door will be the main road leading out of each room. But if the door is closed by smoke or fire, locate the alternate exit route, which may be a window. Time to leave make sure all windows open very easily and exit the window with great care.
Smoke detectors and alarm systems:
 Each resident or in an industrial area there should be smoke detectors or smoke detectors. The battery should be checked regularly to see if it is working properly. You can also find some smoke detectors connected to the home alarm system. When the fire happens, you can call the local fire department through the alarm system. This will help not only when you are unable to get a connection through the phone but also to contact the fire department even if the house is on fire in your absence.
Heating device:  When there is low humidity in the air, you may want to use a portable heater or fireplace to keep your house, apartment or flat warm. And when these machines are completely removed from the air, they can also cause a fire. You should check the portable heater for safety and know when to go to sleep or when it is not there, it should turn off the Kiva. They must be completely suppressed when they come to the fireplace at the end of every season.
Cooling device:  While many know the risks of using home heating devices, they may not realize the major problems that a home cooling device can create. For example, at the beginning of every season, even throughout the year you have to clean your air conditioning. Fine fibers, rows, and other items are stuck to the unit and these are triggered by an electric fire. You need to check your cooling fan to see if any of them are wasted and make sure that they do not bite your pet. Not only do you think that cooling machines keep your house cool, but they can also cause a fire. Fire safety doesn't mean you have to worry. The key is to show how you keep your family and pets safe. Speaking to a fire department officer near you will get to know the specific needs of your place and how to address them.
Water and electrical materials:
You have to be aware of the horrific issues of water and electricity. For example, if the roof of your home is leaking and water is constantly being squeezed into an electrical outlet, you will soon face an electric fire. There is always a need to be aware of such a situation, and to take such action when taking any such incident. It is better to call an electrician at home and find out if there is any such problem.
Instructions in emergency procedures for Supervisory staff:
 The emergency procedures to be used in case of fire safety in Bangladesh: 
sounding the fire alarm
notifying the fire department

 

instructing occupants on procedures to be followed when the fire alarm sounds

 

evacuating occupants, including special provisions for persons requiring assistance

 

the procedures for use of elevators, and

confining, controlling and extinguishing the fire

The appointment and organization of designated supervisory staff to carry out fire safety duties.

 

The training of supervisory staff and instruction of other occupants in their responsibilities for fire safety.

Documents, including diagrams, showing the type, location, and operation of the building fire emergency systems

 

The holding of fire drills

The control of fire hazards in the building
The maintenance of building facilities provided for the safety of occupants and The provision of alternative measures for the safety of occupants during any shutdown of fire protection equipment and systems or part thereof.
Also any Fire Safety Plan in buildings within the scope of Subsection 3.2.6. of Division B of the Building Code shall, in addition to the earlier requirements shall also, include The instruction of supervisory staff on the use of the voice communication system. The action to be taken by supervisory staff in initiating any smoke control or other fire emergency systems installed in a building in the event of fire until the fire department arrives. The procedures established to facilitate fire department access to the building and fire location within the building. The instructions for the supervisory staff and fire department for the operation of the fire emergency systems.
Fire Safety Plans are a complex and detailed document, designed specifically for each individual building. It is strongly recommended that you retain the services of a Fire and Life Safety professional to prepare the Fire Safety Plan for your Occupancy.